A Red Rock Financial Services employee recently went above and beyond the call of duty and, in the process, may have helped save a man's life.
(PRWEB) June 07, 2012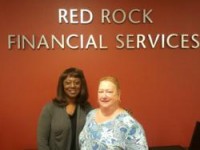 "Because of her quick thinking and willingness to help and show compassion for this person, Coral may have saved this man's life," Just said.
Coral Briscoe, who works in the RRFS call center, received a call from a distraught man now living in San Diego. RRFS is attempting to collect past due assessments on a Glendale, Arizona property previously owned by the man.
In talking with the man, Coral noticed he sounded despondent and depressed. The man talked about many problems in his life and did, at one point, mention suicide. The man started to cry, stating that he has tried to kill himself twice before and "they keep bringing him back."
Coral talked with the man, made positive statements, but knew, at the end of the call, that there was more that needed to be done. And more that she could do. Coral brought the situation to the attention of a colleague, Meryl Fisher, and notified RRFS President Joel Just.
Coral contacted the man again to express concern and encourage him to seek help. She had expressed her concern for his daughter and encouraged him that he needed to be strong for his family.
Meryl meanwhile contacted the San Diego Northeastern Division Police Department and requested a wellness check on the man.
The San Diego Police Department visited the man and found that he had stopped taking his anti-depression medication. The police also informed Meryl that they have visited this man previously. The policewoman stated that it was a good thing that RRFS had contacted them and that they will get the man the help he needs.
Link to PRWeb:
http://www.prweb.com/releases/2012/6/prweb9585431.htm